According to 1910.119(e) and 40CFR68.67(a) the purpose of a PHA is to "…identify, evaluate, and control the hazards involved in the process." Since the mid-90's the refrigeration industry has done this mainly through the IIAR's "What-If" methodology as suggested in their Compliance Guidelines materials.
There have been many revisions of this material over the years, but they all have the same thing in common as you use them: You can see how each question / item:
Poses a failure scenario (sort of a lesson someone else has already learned)
Prods you to solve the issue through an existing RAGAGEP
For example, a question might ask something like "What if plugs, caps, or blind flanges are missing on purge or drain valves?" This should prod you to recall that both IIAR 2 and IIAR 4 require that these things be plugged, capped, etc. This should also prod you to ask how you are addressing this requirement in your Process Safety Program.
The issue we always came across is that you must KNOW or MEMORIZE what the RAGAGEP says in a very complete way, or you miss the connection between the "What If" scenario and the RAGAGEP. This is nearly impossible because it seems like RAGAGEP is multiplying at an alarming rate. Furthermore, this (at least two day) process often feels like a futile effort at figuring out what the "What-If" scenario questions are really getting at.
To improve this years ago, I started adding two things to the IIAR standard questions:
References to the IIAR standards where appropriate. (For example, in our plug question, reference IIAR 2-2021 13.3.2.6 & IIAR 4-2020 10.4.5.4)
Explicit checklists that allow you to compare your system to appropriate RAGAGEP outside of the "What If" scenarios.
It's very easy to lose sight of evolving RAGAGEP over time. These checklists allow you to perform a forensic examination of your system compared to current RAGAGEP. In addition to the issue of improving RAGAGEP compliance, we also face other challenges.
It is common to show up to perform a PHA and find the client lacks critical Process Safety Information and PSM elements & procedures making a compliant PHA extremely difficult or impossible.
Incident Investigations are often in a state of disarray or incomplete making their inclusion in the PHA difficult at best, and almost meaningless at worst.
IIAR 9 now requires an evaluation against its minimum requirements for all NH3 refrigeration systems at least every five years.
In some regions the EPA has an almost absurd number of questions they "like" to see in your Facility Siting sections.
The Emergency Action Plan is a critical safeguard in your program, and it is usually missing some basic items that aren't apparent until you try and use it in an emergency.
Finally, the IIAR has standards on Installation, Commissioning, and Decommissioning that are often overlooked.
This again leads us back to checklists. I created them for basic PSI & PSM items, Incident Investigations, IIAR 9, Facility Siting, EAP, IIAR 4, IIAR 6, and IIAR 8. Here's what that looks like: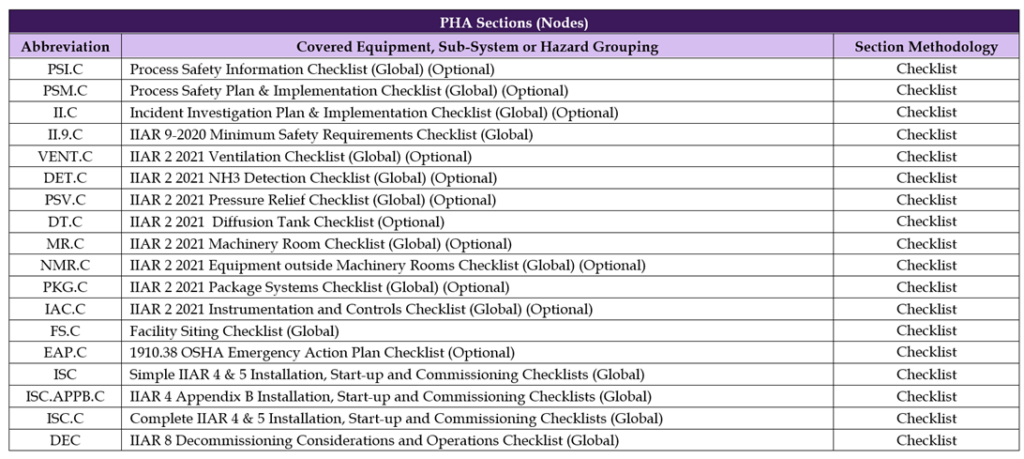 As you can see, that's fairly comprehensive, but it's also a lot more work! To adjust to all this, we usually perform PHA's in a two-step process.
Step 1: Weeks in advance, we give the client the relevant checklists and have them fill them out to the best of their ability.
Step 2*: Once we're on-site, we go over the checklists they've worked on to answer any questions, address discrepancies, etc. THEN we move on to the "What If" scenarios.
* Of course, if the client wants, we can always book another two or three days of our time helping them on-site with Step 1.
The result of this longer, more comprehensive process is:
A nearly point-by-point check of the facility (and their Process Safety program) against common RAGAGEP from a HAZARD perspective rather than a compliance one.
A much better understanding of the "What If" scenario questions when we get to them after the checklists.
Cleaner, more systemic recommendations that point to specific hazards and the RAGAGEP that most effectively addresses them.
At the end of the PHA process, facility team members have a much clearer understanding of where the requirements and recommendations are coming from.
---
You can learn more about our PHA offerings here. Email or call us today to have RC&E assist you with all your PSM/RM Program needs! [email protected]    (888) 357-COOL (2665)