The IIAR has just released IIAR 2-2014 Addendum A: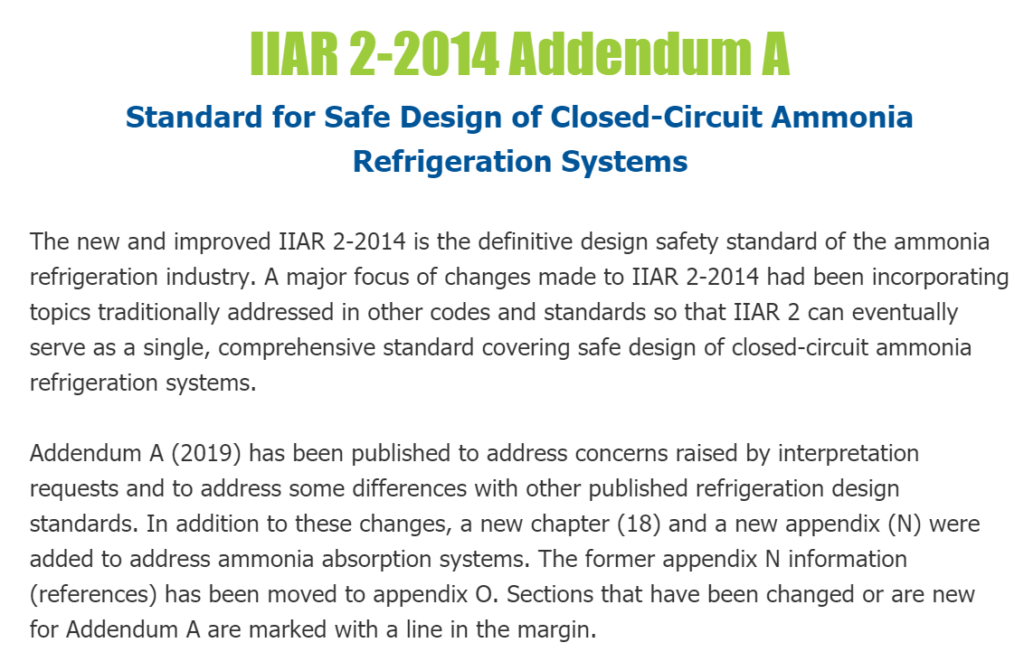 While there isn't a whole lot that's changed in the document (compared to IIAR 2-2014) quite a bit of it was re-numbered / re-organized. Based on my review, there's not too much going on in the new edition:
Inclusion of absorption systems
Water % allowed in NH3 became more reasonable
Significant change to the wording concerning the "corrosion allowance" for vessels such that it is optional now
Some equipment hydrostatic protection now points to the "Mechanical Code" rather than the IIAR 2 section 15.6
A clearer requirement for pumpout provisions for all equipment
Minor clarifications and reorganizations.
I've already updated the PHA checklist blanks (and my internal compliance audit template) to reflect the new RAGAGEP.
Here's my list of changes (which may not be complete) if you are interested in this sort of thing!
Section
Requirement in IIAR 2-2014
Requirement in IIAR 2-2014a
1.2 Scope
*Scope. Stationary closed-circuit refrigeration systems utilizing ammonia as the refrigerant shall

comply with this standard. This standard shall not apply to

1.      Ammonia absorption refrigeration systems.

2.      Replacements of machinery, equipment, or piping with functional equivalents.

3.      Equipment and systems and the buildings or facilities in which they are installed that existed prior to the legal effective date of this standard. Such equipment, systems, and buildings and facilities shall be maintained in accordance with the regulations that applied at the time of installation or construction.

*Scope. Stationary closed-circuit vapor compression and absorption refrigeration systems utilizing anhydrous ammonia as the refrigerant shall comply with this standard. This standard shall not apply to:

1.      Replacement of machinery, equipment, or piping with functional equivalents.

2.      Equipment and systems and the buildings or facilities in which they are installed that existed prior to the legal effective date of this standard. Such equipment. Systems, and building and facilities shall be maintained in accordance with the regulations that applied at the time of installation or construction.

Note: Absorption systems added to appendix

4.2 Permissible Equipment Locations
4.2.1 Listed Equipment. Listed equipment containing not more than 6.6 lb (3 kg) of ammonia and

installed in accordance with the listing and the manufacturer's instructions shall be permitted in any occupancy without a machinery room.

4.2.1 Listed Equipment. Listed equipment containing not more than 6.6 lbs (3 kg) of ammonia and installed in accordance with the listing and the manufacturer's instructions shall be permitted in any occupancy without a machinery room. Listed equipment for use in laboratories with more than 100 ft2 (9.3m2) of floor area is permitted to contain any amount of ammonia if the equipment is installed in accordance with the listing and the manufacturer's installation instructions.
4.2 Permissible Equipment Locations
4.2.2. *Outdoor Installations. Ammonia refrigeration machinery shall be permitted to be installed outdoors. Ammonia refrigeration machinery, other than piping, installed outdoors shall be located not less than 20 ft from building openings, except for openings to a machinery room or openings to an industrial occupancy complying with Section 7.2.
4.2.2 *Outdoor Installations. Ammonia refrigeration machinery shall be permitted to be installed outdoors when installed in compliance with sections 7.2.2, 7.2.4, 7.2.6, 7.2.7 and 7.2.8. Ammonia refrigeration machinery, other than piping, installed outdoors shall be located not less than 20 ft. from building openings, except for openings to a machinery room or openings to an industrial occupancy complying with Section 7.2.

EXCEPTIONS:

1.      Packaged absorption systems for residential and commercial occupancies with refrigerant quantities not exceeding 22 lbs. (10 kg.) are permitted to be installed within 20 ft. of building openings.

2.      Packaged vapor compression systems for commercial occupancies with refrigerant quantities not exceeding 22 lbs. (10 kg.) are permitted to be installed within 20 ft. of building openings.

3.      Packaged absorption or vapor compression systems with refrigerant quantities such that a complete discharge would not exceed a concentration of 300 ppm in any room or area in which the refrigerant could enter. The calculation procedure shall be in accordance with Chapter 5, Section 5.3.

4.2 Permissible Equipment Locations
No Exceptions Listed
4.2.4 EXCEPTIONS:

1.      Listed packaged vapor compression or absorption systems, with no refrigerant containing parts that are joined in the field by other than mating valves that permit sections of the system to be joined before opening the valves, installed in areas or rooms that are not public hallways or lobbies and with refrigerant quantities equal to or less than 6.6 lbs. (3 kg) are permitted for residential occupancies.

2.      Listed packaged vapor compression or absorption systems, with no refrigerant containing parts that are joined in the field by other than mating valves that permit sections of the system to be joined before opening the valves, installed in areas or rooms that are not public hallways or lobbies and with refrigerant quantities equal to or less than 22 lbs. (10 kg) are permitted for commercial occupancies.

3.      Listed, sealed packaged vapor compression or absorption systems with no refrigerant containing parts that are joined in the field by other than mating valves that permit sections of the system to be joined before opening the valves, installed in public hallways or lobbies and with refrigerant quantities equal to or less than 3.3 lbs. (1.5 kg) are permitted for residential and commercial occupancies.

5.2 Anhydrous Ammonia Specifications
Table 5.2.2 Purity Requirements

Ammonia Content 99.95% minimum

Non-Basic Gas in Vapor Phase 25 ppm maximum

Non-Basic Gas in Liquid Phase 10 ppm maximum

Water 33 ppm maximum

Oil (as soluble in petroleum ether) 2 ppm maximum

Salt (calculated as NaCl) None

Pyridine, Hydrogen Sulfide, Naphthalene None

Table 5.2.2 Purity Requirements

Ammonia Content 99.95% minimum

Water 50 ppm minimum, 5000ppm maximum

Oil 50 ppm maximum

Salt None

Pyridine, Hydrogen Sulfide, Naphthalene None

5.5 System Design Pressure
Note: This item was not present in IIAR 2-2014. It was inserted after 5.5.1.1 which required renumbering 5.5.5.1.3 & 5.5.1.4 to 5.5.1.4 & 5.5.1.5
5.5.1.2 Limited Charge Systems. When parts of a limited charge system are protected from overpressure by a pressure relief device, the design pressure of the protected parts need not exceed the set-pressure of the relief device. The set pressure of the relief device shall not exceed the design pressure of the protected parts.
5.5 System Design Pressure
5.5.1.4 Connecting to Existing Low-Pressure Equipment. Where new low-pressure side

equipment is connected to an existing system that was in operation prior to the adoption of this standard by the AHJ, the design pressure of the new low-pressure side portion of the system shall be permitted to equal the design pressure of the

existing low-pressure side.

5.5.1.5 Connecting to Existing Low-Pressure Equipment. Where new low-pressure side equipment is connected to an existing system that was in operation prior to the adoption of this Standard by the AHJ, the design pressure of the new low-pressure side portion of the system shall be permitted to equal the design pressure of the existing low-pressure side. All other requirements of this standard shall apply.
5.5 Purging
5.8 *Purging. Means shall be provided to remove air and other noncondensable gases from the

refrigeration system.

5.8 *Purging. Means shall be provided to remove air and other non-condensable gases from the refrigeration system. Discharge piping for purging systems that discharge to the atmosphere shall conform to sections 13.4 for support, 15.4.3 for materials, and 15.5.1.2 through 15.5.1.7 for termination.

EXCEPTION: A means for purging is not required for packaged vapor compression and absorption systems with refrigerant quantities that do not exceed 22 lbs. (10 kg.).

5.12 Service Provisions
5.12.4 Pressure Gauges. Where a pressure gauge is installed on the high side of the refrigeration

system, the gauge shall be capable of measuring and displaying not less than 120% of the

system design pressure.

16.4.2 Pressure Gauges. High Side Installation. Where a pressure gauge is installed on the high side of the refrigeration system, the gauge shall be capable of measuring and displaying not less than 120% of the system design pressure.

Note: Basically, it just moved.

5.12 Service Provisions
5.12.5 *Service Isolation Valves. Serviceable equipment shall have manual isolation valves.

EXCEPTION: Packaged systems and portions of built-up systems shall be permitted to have

pump-down arrangements that provide for the removal or isolation of ammonia for servicing

one or more devices in lieu of isolation valves.

5.12.4 *Service Isolation Valves. Serviceable equipment and control valves shall have manual isolation valves. Where multiple pieces of serviceable equipment are readily isolated by a single set of hand isolation valves, the use of a single set of valves meets the intent of this section.
5.12 Service Provisions
Appears to be NEW

5.12.5 *Equipment Pumpout. Provisions for pumpout of equipment and control valves shall be provided for maintenance and service.
5.13 Testing
5.13.2 Ultimate Strength. Pressure-containing equipment shall comply with Sections 5.13.2.1 and 5.13.2.2.

EXCEPTION: The following shall be permitted to comply with Section 5.13.2.3 in lieu of

complying with this section:

1.      Pressure vessels.

2.      Piping, including valves, evaporators, condensers, and heating coils with ammonia as the working fluid, provided they are not part of the pressure vessel.

3.      Pressure gauges.

4.      Refrigerant pumps.

5.      Control mechanisms.

5.13.2 Ultimate Strength. Pressure-containing equipment shall comply with Sections 5.13.2.1 and 5.13.2.2.

EXCEPTIONS: The following shall be permitted to comply with Section 5.13.2.3 in lieu of complying with Sections 5.13.2.1 and 5.13.2.2.:

1.      Piping, including valves, evaporators, condensers, and heating coils with ammonia as the working fluid, if they are not part of a pressure vessel.

2.      Pressure gauges.

3.      Control mechanisms.

5.13 Testing
5.13.2.3 Equipment designed based on the exception to Section 5.13.2 shall be required to

comply with additional requirements in Chapter 8 through Chapter 16 and ASME B31.5, as applicable.

5.13.2.3 Equipment and piping designs based on the exception to Section 5.13.2 shall be required to comply with additional requirements in ASME B31.5 as applicable.
5.14 Signage, Labels, Pipe Marking, and Wind Indicators
Appears to be NEW – addition required re-ordering the rest of the 5.14 sections
5.14.2 *NFPA 704 Placards. Buildings and facilities with refrigeration systems shall be provided with placards in accordance with NFPA 704. For equipment located outdoors, the placard shall display the following degrees of hazard: Health-3, Flammability-1, Instability-0. For equipment located indoors, the placard shall display the following degrees of hazard: Health-3, Flammability-3, Instability-0
5.17 General Safety Requirements
Appears to be NEW – addition required re-ordering the rest of the 5.17 sections
*Vessel Pumpdown Capacity. Liquid ammonia shall not occupy a vessel at a volume large enough to create a risk of hydrostatic overpressure unless the vessel is protected by a hydrostatic pressure relief device.

Note: A.5.17.4 The maximum volume of liquid in vessels has traditionally been considered 90% at a temperature of 90°F. Calculations can be done to determine other levels and worst-case temperatures.

5.17.5 Used Equipment
This appears to have moved from Section 6.8
5.17.10 Electrical Safety – Electrical equipment and wiring shall be installed in accordance with the Electrical Code.
6 Machinery Rooms
6.3.3.2 Manually operated isolation valves identified as being part of the system emergency shutdown procedure shall be directly operable from the floor or chain operated from a permanent work surface. Emergency valve identification shall comply with Section 5.14.5
6.3.3.2 Manually operated isolation valves identified as being part of the system emergency shutdown procedure shall be directly operable from the floor or chain operated from a permanent work surface. Emergency valve identification shall comply with Section 5.14.4
6 Machinery Rooms
6.6.3 Pipe Marking. Piping shall be marked as required by Section 5.14.5.
6.6.3 Pipe Marking. Piping shall be marked as required by Section 5.14.6.
6 Machinery Rooms
6.7.1 General. Each machinery room shall have access to a minimum of two eyewash/safety shower units, one located inside the machinery room and one located outside of the machinery room, each meeting the requirements in Section 6.7.3. Additional eyewash/safety shower units shall be installed such that the path of travel in the machinery room is no more than 55 ft to an eyewash/safety shower unit.
6.7.1 General. Each machinery room shall have access to a minimum of two eyewash/safety shower units, one located inside the machinery room and one located outside of the machinery room, each meeting the requirements in Section 6.7.3.
6 Machinery Rooms
6.7.2 – Path of Travel. The path of travel within the machinery room to at least one eyewash/safety shower unit shall be unobstructed and shall not include intervening doors.
6.7.2 Path of Travel. The path of travel within the machinery room to at least one eyewash/safety shower unit shall be unobstructed and shall not include intervening doors. Additional eyewash/safety shower units shall be installed such that the path of travel in the machinery room is no more than 55 ft to an eyewash/safety shower unit. The path of travel to at least one eyewash/safety shower unit located outside of the machinery room shall be within 55 ft. of the principle machinery room door. The path of travel shall be unobstructed and shall not include intervening doors.
6 Machinery Rooms
6.8.1 General. Electrical equipment and wiring shall be installed in accordance with the Electrical Code.
6.8.1 Hazardous (Classified) Locations. Electrical equipment and wiring shall be installed in accordance with the Electrical Code. Machinery rooms shall be designated as Unclassified Locations, as described in the Electrical Code, where the machinery room is provided with emergency ventilation in accordance with Section 6.14.7 and ammonia detection in accordance with Section 6.13.

A machinery room not provided with emergency ventilation shall be designated as not less than a Class I, Division 2, Group D Hazardous (Classified) Location, and electrical equipment installed in the machinery room shall be designed to meet this requirement.

6 Machinery Rooms
6.8.2 Machinery rooms shall be designated Ordinary Locations, as described in the Electrical Code, where the machinery room is provided with emergency ventilation in accordance with Section 6.14.7 and ammonia detection in

accordance with Section 6.13.

Machinery rooms not provided with emergency ventilation shall be designated as not less than a Class I, Division 2, Group D Hazardous (Classified) Location, and electrical equipment installed in the machinery room shall be designed to meet this requirement.

6.8.3 Design Documents. Electrical design documents shall indicate whether the machinery room is designated as an Ordinary Location or as a Hazardous (Classified) Location. Where the machinery room is designated as a Hazardous (Classified) Location, the Class, Division, and Group of the electrical classification, as required by the Electrical Code, shall be indicated in the documentation.
6 Machinery Rooms
6.8.2 Design Documents. Electrical design documents shall indicate whether the machinery room is designated as an Ordinary Location or as a Hazardous (Classified) Location. Where the machinery room is designated as a Hazardous (Classified) Location, the Class, Division, and Group of the electrical classification, as required by the Electrical Code, shall be indicated in the documentation.
* Moved up one section
6.14 Ventilation
"6.14.3.1 Mechanical exhaust ventilation systems shall be automatically activated by ammonia leak detection in accordance with Section 6.13 or temperature sensors and shall be manually operable."
Appears to have been removed. These requirements are already elsewhere in the document so there is no real effect other than requiring 6.14.3.2-6 to be renumbered to 6.14.3.1-5.
6 Machinery Rooms
6.15.1 *NFPA 704 Placards. Buildings and facilities with refrigeration systems shall be provided with placards accordance with NFPA 704 and the Mechanical Code.
6.15.1 NFPA 704 Placards. A NFPA 704 placard shall be provided in accordance with Section 5.14.2 on or next to all doors through which a person can enter the machinery room.
6 Machinery Rooms
Appears to be NEW – Just a reminder about earlier requirements

6.15.4 Emergency Control Switch Signage. Signage shall be provided near the emergency stop and emergency ventilation control switches as described in section 6.12.
7 Equipment in Non-Machinery Rooms
7.2.7 Illumination of Equipment Areas. See Section 5.17.6.
7.2.7 Illumination of Equipment Areas. See Section 5.17.7.
7 Equipment in Non-Machinery Rooms
Appears to be NEW
7.2.10 Electrical Classification. Areas in compliance with 7.2.1 through 7.2.9 shall be designated as Unclassified electrical locations as described in the Electrical Code, unless a different electrical classification is required by in the space other than for the ammonia refrigeration system.
7 Equipment in Non-Machinery Rooms
7.3.2 Outdoor Systems. Where a refrigeration system or equipment is located outdoors more than 20 ft (6.1 m) from building entrances and exits and is enclosed by a penthouse, lean-to, or other open structure, natural ventilation shall be provided in accordance with this Section 7.3.2 or

mechanical ventilation shall be provided in accordance with Section 6.14 and Section 7.3.1.2.

7.3.2 Outdoor Systems. Outdoor systems include those that comply with Section 4.2.2. For outdoor systems, natural ventilation shall be provided in accordance with this Section or mechanical ventilation shall be provided in accordance with Section 6.14 and Section 7.3.1.
8 Compressors
8.2.2 *Positive-Displacement Compressor Protection. Where a stop valve is provided in the discharge connection, a positive-displacement compressor shall be equipped with a pressure relief device to prevent the discharge pressure from increasing to more than 10% above the lowest maximum allowable working pressure of the compressor or any other equipment located in the discharge line between the compressor and the stop valve, or in accordance with Section 15.3.7, whichever is larger.
8.2.2 *Positive-Displacement Compressor Protection. Where a stop valve is provided in the discharge connection, a positive-displacement compressor shall be equipped with a pressure relief device to prevent the discharge pressure from increasing to more than 10% above the lowest maximum allowable working pressure of the compressor or any other equipment located in the discharge line between the compressor and the stop valve, or in accordance with Section 15.3.8, whichever is larger.
8 Compressors
8.2.6 Rotation Arrow. If rotation is one direction only, a rotation arrow shall be cast in or permanently attached to the compressor frame using an attached label or plate or equivalent means.
8.2.6 Rotation Arrow. If rotation is one direction only, a rotation arrow shall be cast in or permanently attached to the compressor.
10.4 Shell-and-Tube Condensers
10.4.1.5 Where the secondary coolant inlet and outlet piping of shell-and-tube condensers can be automatically isolated, protection from hydrostatic overpressure shall be in accordance with Section 15.6.
10.4.1.5 Where the secondary coolant inlet and outlet piping of shell-and-tube condensers can be automatically isolated, protection from hydrostatic overpressure shall be in accordance with the Mechanical Code.
10.4 Shell-and-Tube Condensers
10.4.2 Procedures/Testing. Shell-and-tube condensers shall be strength tested to a minimum of 1.1

times the design pressure, subsequently leak tested, and proven tight at a pressure not less than

design pressure by the manufacturer.

10.4.2 Procedures/Testing. Shell-and-tube condensers shall be strength tested to a minimum of 1.1 times the design pressure when they are not manufactured as a pressure vessel or shall be pressure tested in accordance with ASME B&PVC, Section VIII, Division 1 when they are manufactured as a pressure vessel. In either case, they shall be subsequently leak tested, and proven tight at a pressure not less than design pressure by the manufacturer
10.5 Plate Heat Exchange Condensers
10.5.1.5 Where the nonrefrigerant process fluid inlet and outlet lines of plate packs can be automatically isolated, they shall be protected from hydrostatic overpressure in

accordance with Section 15.6.

10.5.1.5 Where the non-refrigerant process fluid inlet and outlet lines of plate packs can be automatically isolated, they shall be protected from hydrostatic overpressure in accordance with the Mechanical Code.
10.5 Plate Heat Exchange Condensers
10.5.2 Procedures/Testing. Plate heat exchanger condensers shall be strength tested to a minimum of 1.1 times the design pressure, subsequently leak tested, and proven tight at a pressure not less than design pressure by the manufacturer.
10.5.2 Procedures/Testing. Plate heat exchanger condensers shall be strength tested to a minimum of 1.1 times the design pressure when they are not manufactured as a pressure vessel or shall be pressure tested in accordance with ASME B&PVC, Section VIII, Division 1 when they are manufactured as a pressure vessel. In either case, they shall be subsequently leak tested, and proven tight at a pressure not less than design pressure by the manufacturer.
10.6 Double- Pipe Condensers
10.6.1.5 Where the secondary coolant inlet and outlet piping of double-pipe condensers can

be automatically isolated, they shall be protected from hydrostatic overpressure in

accordance with Section 15.6.

10.6.1.5 Where the secondary-coolant inlet and outlet piping of double-pipe condensers can be automatically isolated, they shall be protected from hydrostatic overpressure in accordance with the Mechanical Code.
11.3 Shell-and-Tube Evaporators
Appears to be NEW
11.3.1.1.2 Ultimate strength shall be in accordance with section 5.13.2.
11.3 Shell-and-Tube Evaporators (Ammonia in Shell)
11.3.1.1.2 Pressure vessels coupled to shell-and-tube evaporators shall comply with

Chapter 12.

Note: Renumbered do to Ultimate Strength addition

11.3.1.1.3 Pressure vessels coupled to shell-and-tube evaporators shall comply with Chapter 12.
11.3 Shell-and-Tube Evaporators (Ammonia in Tubes)
11.3.2.1 Design
11.3.3 Design
11.3 Shell-and-Tube Evaporators (Ammonia in Tubes)
11.3.2.1.1 Minimum design pressure shall be in accordance with Section 5.5.
11.3.3.1.1 Minimum design pressure shall be in accordance with Section 5.5.
11.3 Shell-and-Tube Evaporators (Ammonia in Tubes)
Appears to be NEW
11.3.3.1.2 Ultimate strength shall be in accordance with section 5.13.2.
11.3 Shell-and-Tube Evaporators (Ammonia in Tubes)
11.3.2.1.2 Pressure vessels coupled to shell-and-tube evaporators with ammonia in the tubes shall comply with Chapter 12.
11.3.3.1.3 Pressure vessels coupled to shell-and-tube evaporators with ammonia in the tubes shall comply with Chapter 12.
11.3 Shell-and-Tube Evaporators (Ammonia in Tubes)
11.3.2.1.3 Where the tube-side inlet and outlet lines of shell-and-tube evaporators with ammonia in tubes can be automatically isolated, the tube side shall be protected from hydrostatic overpressure in accordance with Section 15.6.
11.3.3.1.4 Where the tube-side inlet and outlet lines of shell-and-tube evaporators with ammonia in tubes can be automatically isolated, the tube side shall be protected from hydrostatic overpressure in accordance with Section 15.6.
11.3 Shell-and-Tube Evaporators (Ammonia in Tubes)
11.3.2.1.4 The tube side shall comply with ASME B31.5 or ASME B&PVC, Section VIII, Division 1.
11.3.3.1.5 The tube side shall comply with ASME B31.5 or ASME B&PVC, Section VIII, Division 1.
11.3 Shell-and-Tube Evaporators (Ammonia in Tubes)
11.3.2.2 Procedures/Testing. Shell-and-tube evaporators shall be strength tested to a minimum of 1.1 times the design pressure, subsequently leak tested, and proven tight at a pressure not less than design pressure by the manufacturer.
11.3.3.2 Procedures/Testing. Shell-and-tube evaporators shall be strength tested to a minimum of 1.1 times the design pressure when they are not manufactured as a pressure vessel or shall be pressure tested in accordance with ASME B&PVC, Section VIII, Division 1 when they are manufactured as a pressure vessel. In either case, they shall be subsequently leak tested, and proven tight at a pressure not less than design pressure by the manufacturer.
11.3 Shell-and-Tube Evaporators (Ammonia in Tubes)
11.3.2.3 Equipment Identification…
11.3.3.3 Equipment Identification…
11.3 Shell-and-Tube Evaporators (Ammonia in Tubes)
11.3.2.4 Installation Considerations. Where design permits servicing of evaporator tubes at their installed location, clearance shall be provided as necessary to accommodate maintenance and replacement.
11.3.3.4 Installation Considerations
11.3 Shell-and-Tube Evaporators (Ammonia in Tubes)
Requirement given its own number
11.3.3.4.1 Where design permits servicing of evaporator tubes at their installed location, clearance shall be provided as necessary to accommodate maintenance and replacement.
11.4 Plate Heat Exchanger Evaporators
11.4.1.5 Where the nonrefrigerant process fluid inlet and outlet lines of plate packs can be isolated, they shall be protected from hydrostatic overpressure in accordance with Section 15.6 on the process side.
11.4.1.5 Where the non-refrigerant process fluid inlet and outlet lines of plate packs can be isolated, they shall be protected from hydrostatic overpressure in accordance with the Mechanical Code on the process side.
11.4 Plate Heat Exchanger Evaporators
11.4.2 Procedures/Testing. Plate heat exchanger evaporators shall be strength tested to a minimum

of 1.1 times the design pressure, subsequently leak tested, and proven tight at a pressure not

less than design pressure by the manufacturer.

11.4.2 Procedures/Testing. Plate heat exchanger evaporators shall be strength tested to a minimum of 1.1 times the design pressure when they are not manufactured as a pressure vessel or shall be pressure tested in accordance with ASME B&PVC, Section VIII, Division 1 when they are manufactured as a pressure vessel. In either case, they shall be subsequently leak tested, and proven tight at a pressure not less than design pressure by the manufacturer.
11.5 Scraped (Swept) Surface Heat Exchangers
11.5.2 Procedures/Testing. Scraped (swept) surface heat exchangers shall be tested in accordance with ASME B&PVC, Section VIII, Division 1, but at a minimum, shall be strength tested to a minimum of 1.1 times the design pressure, subsequently leak tested, and proven tight at a

pressure not less than design pressure by the manufacturer.

11.5.2 Procedures/Testing. Scraped (swept) surface heat exchangers shall be strength tested to a minimum of 1.1 times the design pressure when they are not manufactured as a pressure vessel or shall be pressure tested in accordance with ASME B&PVC, Section VIII, Division 1 when they are manufactured as a pressure vessel. In either case, they shall be subsequently leak tested, and proven tight at a pressure not less than design pressure by the manufacturer.
11.6 Jacketed Tanks.
11.6.2 Procedures/Testing. Jacketed tanks shall be tested in accordance with ASME B&PVC, Section VIII, Division 1, but at a minimum, shall be strength tested to a minimum of 1.1 times the design pressure, subsequently leak tested, and proven tight at a pressure not less than

design pressure by the manufacturer.

11.6.2 Procedures/Testing. Jacketed tanks shall be strength tested to a minimum of 1.1 times the design pressure when they are not manufactured as a pressure vessel or shall be pressure tested in accordance with ASME B&PVC, Section VIII, Division 1 when they are manufactured as a pressure vessel. In either case, they shall be subsequently leak tested, and proven tight at a pressure not less than design pressure by the manufacturer.
12. Pressure Vessels
12.2.6 *In applications where pressure vessels are subject to external corrosion, the vessels shall be designed and specified with a minimum of 1/16 in. (0.16 cm) corrosion allowance. The external corrosion allowance is in addition to the minimum vessel thickness as required by

ASME B&PVC, Section VIII, Division 1.

12.2.6 * In applications where vessels are subject to external corrosion as determined by the owner or owner's designated agent, suitable means shall be used to address vessel protection.
14.1 General (Packaged Systems)
14.1.3 *‍Packaged systems shall be ventilated based on the intended operation of the equipment, as specified by the manufacturer. In addition, emergency mechanical ventilation shall be provided where required by any of the following:

1. Package systems located in machinery rooms shall be included as machinery room equipment. Emergency ventilation for machinery rooms shall be in accordance with Section 6.14.

2. Package systems located indoors and outside of a machinery room in accordance with Section 4.2.3, Item 5, shall comply with Section 7.3.1.

3. Package systems located outside that are designed for human occupancy shall comply with Section 7.3.2. Package systems located outside that are not designed for human occupancy shall not require ventilation.

14.5 Ventilation. Ventilation for packaged system shall comply with the following:

1.      Packaged systems that are required to be located in a machinery room as determined in Chapter 4 shall comply with Section 6.14.

2.      Packaged systems located indoors and permitted to be located in areas other than a machinery room in accordance with Section 4.2.3., item 5, shall comply with section 7.3.1.

1.      3. Packaged systems located outdoors shall comply with Section 7.3.2.

Note: Moved and condensed a bit

14.1 General (Packaged Systems)
14.1.4 Equipment and devices incorporated into packaged systems shall comply with the applicable

provisions of Chapter 8 through Chapter 17.

14.1.3 Equipment and devices incorporated into packaged systems shall comply with the applicable provisions of Chapter 8 through Chapter 17.
14.1 Design (Packaged Systems)
14.2.6 *‍Access shall be provided for manually operated valves. Isolation valves identified as being

part of system emergency shutdown procedures shall comply with Section 6.3.3.1 and valve

tagging shall comply with Section 5.14.3.

14.2.6 *Access shall be provided for manually operated valves. Isolation valves identified as being part of system emergency shutdown procedures shall comply with Section 6.3.3.1 and valve tagging shall comply with Section 5.14.4.
14.1 Design (Packaged Systems)
14.2.7 Pipes shall be marked in accordance with Section 5.14.5.
14.2.7 Pipes shall be marked in accordance with Section 5.14.6.
14.1 Design (Packaged Systems)
14.2.8 Equipment shall be labeled in accordance with Section 5.14.2.
14.2.8 Equipment shall be labeled in accordance with Section 5.14.3.
14.1 Alarms (Packaged Systems)
2.      Package systems located indoors and outside of a machinery room, as permitted by Section 4.2, shall be provided with Level 2 detection and alarms in accordance with Section 17.7.2.
3.      Packaged systems located indoors and permitted to be located in areas other than a machinery room, in accordance with Section 4.2.3, shall be provided with detection and alarms complying with Section 7.2.3 or 7.3.1.
14.1 Alarms (Packaged Systems)
3.      Package systems located outdoors that are not  intended for human occupancy shall not require ammonia detection or alarms.
4.      Packaged systems located outdoors that comply with the free-aperture requirements of Section 7.3.2 shall not require ammonia detection or alarms.

5.      Packaged systems located outdoors that do not comply with the free-aperture requirements of section 7.3.2 shall be provided with detection and alarms complying with section 6.13 or if permitted by section 4.2.3 shall be provided with detection and alarms complying with Section 7.3.1

15 Overpressure Protection Devices
VARIOUS
Note: This whole section was renumbered and partially reorganized. I'm limiting this section to the new or changed requirements.
15.1.2 Overpressure Protection Devices General
Appears to be NEW
15.1.2 It is permitted to protect system piping and equipment from overpressure through unobstructed piping that is connected to pressure vessels equipped with overpressure protection. Vessels and equipment that relieve into the system must comply with sections 15.3.7 and 15.3.8.
15.1.3 Overpressure Protection Devices General
Appears to be NEW
15.1.3 Rupture discs are not permitted as the only means of pressure relief. They are permitted to be used in series with pressure relief valves and in accordance with 15.2.6.
15.1.4 Overpressure Protection Devices General
Appears to be NEW
15.1.4 Fusible plugs are not permitted for use as pressure relief devices.
15.2.1 Pressure Relief Devices
Appears to be NEW
15.2.1 Pressure relief devices shall be direct-pressure actuated or pilot operated. Pilot-operated pressure relief valves shall be self-actuated, and the main valve shall automatically open at the set pressure. If the pilot valve fails, the main valve shall discharge at its full-rated capacity.
15.2.3 Pressure Relief Devices
Appears to be NEW

 

15.2.3 – Pressure relief devices shall not use cast iron seats or discs.
15.3 ASME pressure vessels and Non-ASME equipment
15.2.7.1 …Resetting of a pressure relief device shall be performed by the manufacturer or a company holding a valid testing certificate for this work.
15.2.8.1 – …Calibration and set pressure adjustments to pressure relief devices shall be performed by the relief device manufacturer or a company holding a certification for this work.
15.3 ASME pressure vessels and Non-ASME equipment
15.3.1 Pressure vessels and other types of equipment built and stamped in accordance with ASME B&PVC, Section VIII, Division 1, shall be provided with certified pressure relief protection.
15.3.1.1 Pressure vessels and equipment built and stamped in accordance with ASME B&PVC, Section VIII, shall be provided with pressure relief protection in accordance with the ASME B&PVC, Section VIII, Division 1
15.3 ASME pressure vessels and Non-ASME equipment
15.3.2 Pressure vessels intended to operate completely filled with liquid ammonia and capable of being isolated by stop valves from other portions of a refrigeration system shall be protected with a certified hydrostatic service relief device as required by ASME B&PVC Section VIII, Division 1. Hydrostatic overpressure relief shall comply with Section 15.6.
15.3.1.2 – *Refrigerant containing equipment not built in accordance ASME BPVC, Section VIII, and having any single ammonia-containing section exceeding 0.5 ft3 of internal volume shall be provided with pressure relief protection that is in accordance with the ASME B&PVC Section VIII, Division 1.

EXCEPTION: The following types of equipment are not required to have overpressure protection unless it is required by other sections of this standard:

1.      Compressors, pumps, controls, headers, piping, evaporator coils, and condenser coils

2.      Equipment built in accordance with ASME B31.5

3.      Equipment listed by a nationally recognized testing laboratory

15.3 ASME pressure vessels and Non-ASME equipment
Appears to be NEW

15.3.2 – Tube and Fin or microchannel evaporator and condenser coils that are located within 18" of a heating source and capable of being isolated shall be fitted with a pressure relief device that discharges according to the provisions of this chapter. The pressure relief device shall be connected at the highest possible location of the heat exchanger or piping between the heat exchanger and its manual isolation valves.

EXCEPTION: Pressure relief protection is not required on tube and fin or microchannel evaporator and condenser coils that are designed for 110% of ammonia's saturation pressure when exposed to the maximum heating source temperature.

15.3 ASME pressure vessels and Non-ASME equipment
15.3.8 *‍Where combustible material is stored within 20 ft (6.1 m) of a pressure vessel that is outside of a machinery room, the relief device capacity factor, f, in the formulas shall be increased to f = 1.25 (f = 0.1).
15.3.9 *Where combustible material is stored or installed within 20 ft (6.1 m) of a pressure vessel, the relief device capacity factor, f, in the formulas shall be increased to f = 1.25 (f = 0.1).
15.4 Pressure Relief Device Piping
15.4.5 – Where piping in the system and other equipment required to comply with this section could contain liquid ammonia that can be isolated from the system during operation or service, the installation shall comply with Section 15.6 for protection against overpressure due to thermal hydrostatic expansion.
* Removed as new items elsewhere address equipment specifically and existing items makes this redundant.
15.4 Pressure Relief Device Piping
15.4.7 – Atmospheric relief piping shall be used only for relieving vapor from refrigerant relief devices or fusible plugs. Relief piping shall not be used to relieve discharge from hydrostatic overpressure relief devices or any other fluid discharges, such as secondary coolant or oil.
15.4.6 – Atmospheric relief piping shall be used only for relieving vapor from refrigerant relief devices. Different refrigerants shall not be vented into a common relief piping system unless the refrigerants are included in a blend that is recognized by ASHRAE Standard 34. Relief piping shall not be used to relieve discharge from hydrostatic overpressure relief devices or any other fluid discharges, such as secondary coolant or oil.
15.5 Discharge from Pressure Relief Devices
Appears to be NEW

15.5.1.7 – Piping discharging to atmosphere shall have a provision to mitigate the entry of rain or snow into the discharge piping.
15.6 Equipment and Piping Hydrostatic Overpressure Protection
Appears to be NEW

15.6.1 *Protection Required. Protection against overpressure due to thermal hydrostatic expansion

of trapped liquid ammonia shall be provided for equipment and piping sections that can be

isolated and can trap liquid ammonia in an isolated section in any of the following situations: …5. During the shipping of any pre-charged equipment.

16. Instrumentation and Controls
16.1.2 Operating Parameter Monitoring. Instruments and controls shall be provided to indicate operating parameters of the refrigeration system and equipment and provide the ability to manually or automatically control the starting, stopping, and operation of the system or equipment. The instruments and controls shall provide notice if the system's critical operating

parameters, as determined by the owner or operator, have been exceeded.

16.1.2 *Operating Parameter Monitoring. Instrumentation and controls shall be provided to indicate operating parameters of the refrigeration system and equipment and provide the ability to manually or automatically control the starting, stopping, and operation of the system or equipment. The instruments and controls shall provide notice to an owner's representative if the system's critical operating parameters, as determined by the owner or operator, have been exceeded. Monitoring of parameters is permitted to be automatic or manual or a combination of both methods.
16. Instrumentation and Controls
16.1.7 Ultimate Strength. The pressure-containing envelope maximum allowable working pressure

of instruments and visual liquid level indicators shall be equal to or greater than the design pressure of the system or subsystem in which they are installed.

16.1.7 MAWP. The pressure-containing envelope maximum allowable working pressure of instruments and visual liquid level indicators shall be equal to or greater than the design pressure of the system or subsystem in which they are installed.
16.4 Pressure Gauges
Appears to be NEW
Pressure Gauges. Pressure gages used for visually determining system pressures shall comply with this section.
16.4 Pressure Gauges
Appears to be NEW
16.4.1 Design and selection. Pressure gauges shall be designed or selected in accordance with one or more of the following:

1.      Comply with the ultimate strength requirements in Section 5.13.2.

2.      Have a documented successful performance history for devices in comparable service conditions.

3.      Use a performance-based pressure-containment design substantiated by either proof tests as described in ASME B&PVC, Section VIII, Division 1, Section UG-101, or an experimental stress analysis.

1.      Is listed individually or as part of an assembly or a system.

16.4 Pressure Gauges
Appears to be NEW location
16.4.2 High Side Installation. Where a pressure gauge is installed on the high side of the refrigeration system, the gauge shall be capable of measuring and displaying not less than 120% of the system design pressure.
17.7.2 Ammonia Detection
* The "level 2" Ammonia Detection was defined in this section.
The "level 2" section has been completely moved to an informative appendix and the "level 3" section has been renumbered to take its place in the normative text.
17.7.2 Ammonia Detection
"…For machinery rooms, additional audible and visual alarms shall be located outside of each entrance to the machinery room."
Text Removed – likely because it simply duplicated the existing Machinery Room requirements.
18 Absorption Systems
Entirely new section
See the document