A little over a year ago, our Process Safety Engineer, Josh Latovich, posted an article entitled "The Cyrus Shank LQ Series Relief Valves – A Discussion on Manufacturer's Recommendations and the 5 Year Pressure Relief Valve Interval." The article dealt with confusion surrounding dueling RAGAGEP's for the replacement interval of hydrostatic valves.
Since that time the issue has come up repeatedly with various opinions provided by industry organizations, end-users, OSHA & EPA inspectors and others. In an October 10th, 2017 update to the article to say "If the Cyrus Shank engineering department changes their position then this issue can be re-evaluated…"
Well, GOOD NEWS. At the 2018 RETA Conference in Dallas, TX this week I was lucky enough to get to spend some time with Cyrus Shank engineer Matt Powell. He was willing to discuss the issue and provide assistance to resolve this issue. Here's what we need from Cyrus Shank regarding this issue: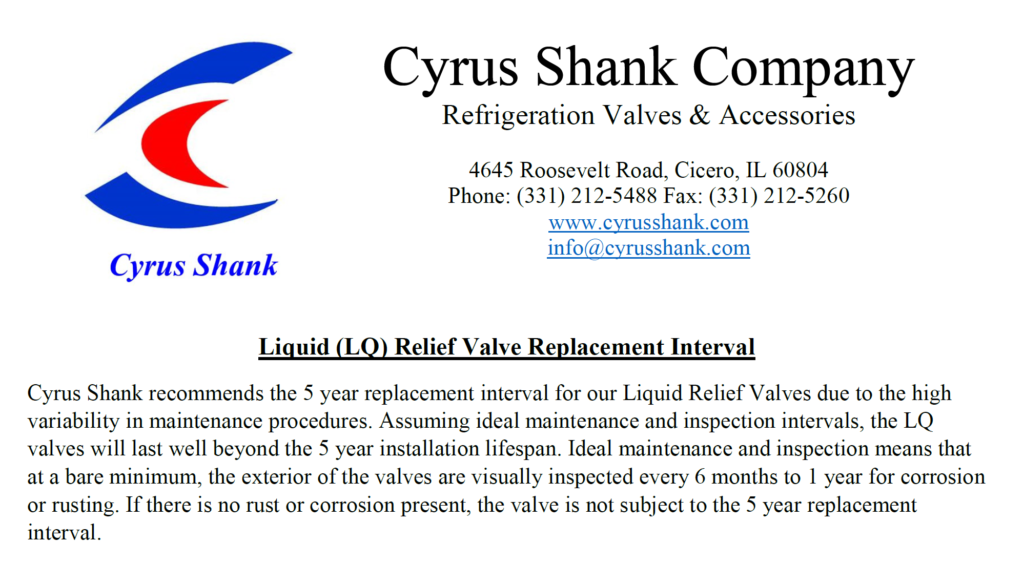 This means that the manufacturer is onboard with the IIAR's position on NOT having to replace these valves if they are visually inspected.
THAT SAID, you still need to look at the FUNCTION of these valves in your system during your Process Hazard Analysis (PHA) to see if their failure will negatively impact your system. In the way they are NORMALLY used, a failure of these valves would cause efficiency issues, rather than safety ones. But you will need to look at the unique situation you have with them before deciding whether a replacement schedule is appropriate or not.
Thanks again to Matt Powell and Cyrus Shank for finally putting this issue to rest. You can download a copy of the letter from them at this link.
For a full recap of the issue, you can go to the original article.